Below are some common problems and issues that might arise while trying to install the expert adviser
I'm getting an Error message occurs while running the installer?
Check if you have the expert advisor installed already; an old version might be installed which might be corrupted.
Uninstall the expert advisor by following the

uninstallation process.
After installing and attaching the EA to a chart, Not all assets/no assets from Market Watch in MetaTrader are displayed
Please reach out to Acuity/Signal Centre with your list of asset names, so that this mapping process could be completed. As many brokers have their own versions of asset name, these assets need to be mapped to Acuity/Signal Centre assets. If this mapping is not done, the expert advisor does not know which assets to display.
Receiving an error message "Please input your API key" appears After installing and attaching the EA to a chart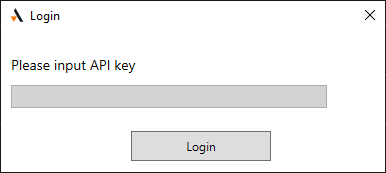 Copy the API key from the URL that you downloaded the EA from. I
Example:

https://dashboard.acuitytrading.com/metatrader/DownloadMt4Installer?apiKey=YOUR_KEY&isFull=true
Input the copied API key into the window below and click Login.
If the above steps don't resolve the problem, please report it to the Acuity team.
After installing and attaching the EA to a chart, the EA does not load, and no error message is displayed
Attach the EA to the chart again by double-clicking the EA or by right-clicking it
and selecting "Attach to a chart"
In the Expert Advisors Settings menu that comes up, access the "Common" tab
Make sure that "Allow DLL imports" in the Safety section is checked: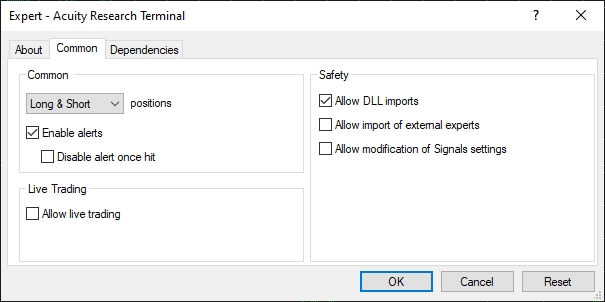 Receiving error "Access to server name denied" appears, after installing and attaching the EA to a chart
Check the whitelisted servers with Acuity/Signal Centre\
Check if the server the user is connecting from is in the list
If this server is not in the list and it should be, please advise Acuity/Signal Centre to add this list into the whitelist